Holidays, man.
They've found us.
Thanksgiving is my favorite because I just need to remember to show up and stuff my face. Maybe I'm put in charge of a singular food. Like dessert for broken people who dislike pie. My people.
And then there's the pageant called The Holidays. Navigating the rituals of various religions, family traditions, and work parties, it's a solid block of cookies, eggnog, and guilt.
Is this a good gift? Are we still doing gifts? Did I already give this to you? How do you plan a holiday meal for a group that is vegetarian, Celiac, diabetic, kosher, lactose intolerant and just plain picky? Are we going to mass? What movie is the Must Watch? Where will everyone sleep? HOLY CRAP IS IT SNOWING?!
It's just too much. It is extra.
Summer and Lia simply take themselves out of the equation and take vacation over The Holidays. They are smarter than me though, and their family isn't as tight knit as mine is. So, I'll put up with all the -ish in order to spend time with 'em, the goofballs.
We're hosting this year, which means we're trading the hopscotch tour we tend to do of New England in favor of me just not sleeping for three days because I insist on waking up when the first person is awake and not sleeping until the last one goes to bed. Still worth it,  but it's never that "relaxing sitting on the couch watching the snow fall" thing you see in movies.
I'm making a goose! I've never had a goose. You will not get me to stop making A Muppet Christmas Carol references all weekend. I'm also making two desserts I've never had, which is the epitome of a bad idea. You shouldn't make multiple things for the first time as company comes, but I'm both a rebel and a risk taker.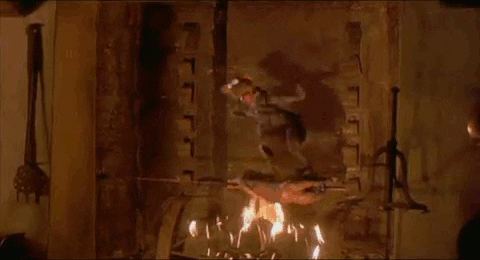 I even think I might use a mix of napkin rings. Oh yeah. Put my face on a t-shirt, I AM the revolution, baby.
We picked up a few games to play this year–Archaeology and Spy Fall, which both look pretty fun but I haven't played yet. We have the usuals…Taboo, Scrabble and all that, but sometimes confusing (slightly) drunken relatives is just as much fun as the game, so I'm excited to see how this works out! Maybe we'll convert 'em and next year will be the world's largest Risk Tournament, and then Hell will freeze over, pigs will fly and the four riders will set out upon their fell steeds.
Speaking of picking up, Feeding Frenzy is up for another giveaway on Goodreads! Get it before the New Year!
Yes, this is a small gift, sorry, I stressed about what to get you, but I wasn't sure if you'd gotten me anything, either and I didn't want you to feel bad so… yeah. Feeding Frenzy it is!
You go ahead and enter giveaways, and I'll show you the bird. No, really, I'll show you pictures of the goose I'm cookin'. I'm just planning to goose you, is all, I promise. Nothing personal.